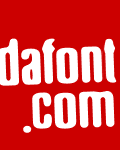 Font, keywords that are quite important in the world of design or art, font has an important role for a designer to complete the design or just sweeten. However fonts owned the standard operating system sometimes still not represent us in the mood to make a masterpiece. Sometimes a designer must take more time to modify the fonts in accordance with the design theme.
Some prefer to download fonts from the internet that often have to pay to download the desired font.
Itself is a form of character font that will be used as a writing.
One of the websites that provide free fonts are daFont.com. This site provides a variety of fonts, ranging from retro, army (military), to the nuances of calligraphy. Di situs free font download ini, font display is also presented, making it easier to choose a font that is presented, but sometimes supplied archive file incomplete.
You can also share fonts on this site, and do not worry, This site uses donation system, so you probably will get donations from those who download the font that you send to the site daFont.com.